SoHo Consignments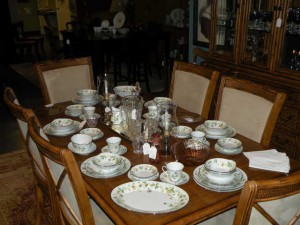 5655 Western Blvd Ste C
Raleigh, NC 27606
(919) 851-6969
_____________________________________________________________________________________________________________
When thinking about selecting a furniture consignment shop, Raleigh NC residents know to look no further than SOHO Consignments. Whether you need to consign your fine furnishings or are shopping for a unique signature furniture piece, SOHO Consignments should be at the top of your list. We are one of the premier consignment shops in Raleigh.
Consignors Get 50% at SoHo Consignment Shop Raleigh NC
Soho offers 50% of the furniture sale price to its consignors in Raleigh. And you will only see top quality items in good condition in the store. This obviously attracts the best buyers. Visit just once and you will see the furniture quality and selection is unparalleled.
And if you are trying to compare Raleigh consignment shops, please understand SOHO is not a thrift store. It is first and foremost the fine furniture consignment store Raleigh, NC residents turn to for brand name furniture at great prices.
When you are shopping for furniture, particularly hard to find items or one-of-a-kind pieces, SOHO is absolutely the place to be. Led by owner, Trish Yovanovich, SOHO tries to select top quality furnishings looking for a new home. "Fine furnishings for the sophisticated home" is not just a catchy slogan, it is the very foundation on which SOHO operates.
Specializing in interior design and how your furniture can complement your home's interior, Trish and her associates can help you with any of your home decorating or furniture selection needs. From contemporary to traditional, Soho is certain to have plenty of nice pieces to choose from.
And if they don't have what you are looking for, just ask. They'll put you on a watch list for that special item and call you if they find it. New items arrive daily in the store, and Trish is getting emails almost by the minute with new photos of interesting items to bring in.
Another great thing at SOHO is you can always expect friendly, courteous service with a smile. So whether you are consigning or buying, you'll see why SoHo Consignments has become a leader in furniture consignment shops in Raleigh NC. Our excellent customer service staff looks forward to serving you. Come see our store at 5655 Western Blvd or call at 919-851-6969.
Video about SoHo Consignment Shop Raleigh NC