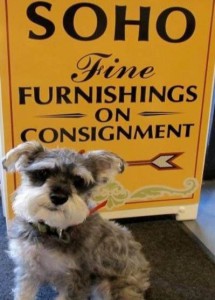 SoHo Consignments
5655 Western Blvd Ste C
Raleigh, NC 27606
(919) 851-6969
_____________________________________________________________________________________________________________
If you have been shopping for furniture at traditional furniture stores, you may want to stop and consider the premier consignment furniture dealer Raleigh NC shoppers know has the unique fine furnishings they want. Having won the Best of Cary Award in 2012, SOHO Consignments is not only the premier consignment furniture dealer Raleigh NC looks to but is obviously one of the top furniture stores Cary NC residents look to as well.
Why is SoHo the Consignment Furniture Dealer Raleigh NC Shoppers Love so Much?
According to our customers, what is unique about SOHO compared to other traditional furniture stores or consignment shops  in Raleigh is the perfect mixture of selection and quality. At most stores, you can't get both, not at a good price anyway.
As a consignment shop, SoHo has the luxury of being able to pick and choose not only a wide variety of items from different time periods and styles, but also has the ability to choose only the finest items in great condition. In other words, SoHo is not a typical furniture store that has to focus on a narrow niche list of items like sofas, loveseats and couches for instance. And SoHo is unlike so many consignment shops that really end up being thrift stores for someone else's "hand-me-downs."
SoHo has a little of everything from artwork to lighting to accessories all the way up to pianos, dining room sets and sectionals. It's really the best of both worlds. From the standpoint of selection, you get a greater selection of unique, one-of-a-kind and hard to find items as compared to the chain stores. And then you have fine, upscale quality to boot at prices that are pretty reasonable compared to buying new. You simply have to visit the showroom to see what we mean. One look and you will completely understand SoHo's tagline, "Fine Furnishings for the Sophisticated Home."
The bottom line is SoHo can help you with any of your home decorating or furniture selection needs. And if they don't have what you are looking for, they'll get your contact information and call you if they find it. New items are arriving daily. You can also check the photos in our furniture photo gallery here on the website or look for the latest updates on our Facebook page.
Consigning or buying, you'll see why SoHo has become the consignment furniture dealer Raleigh NC residents look forward to visiting often. We hope to see you in our showroom soon. Visit our store at 5655 Western Blvd or call at 919-851-6969.
Topic: Consignment Furniture Dealer Raleigh NC