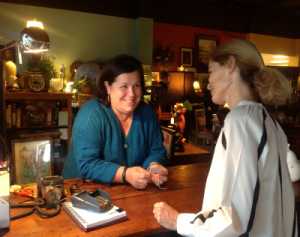 When shopping for Raleigh Furniture, the minute you walk into Soho Consignments, you know you have arrived in one of the most unique furniture stores you've ever seen. Soho is a place that is fun and special to shop. We promise you'll be pleasantly surprised by the upscale selection. Seriously, where can you find a mid-century armoire or vintage antique table sitting right around the corner from an irresistibly comfortable placentero chair?
See Trish at SoHo for your next Raleigh Furniture Purchase
And as great as the selection is, the atmosphere and friendliness at SOHO is equally inviting. Raised in a small town in the Midwest, owner Trish Yovanovich has brought all that small town charm and hospitality into her Raleigh Furniture Gallery.
Visit her store and you will see what we mean, you'll get a warm, helpful greeting and probably get to listen to some funky tunes while you're there.
With 23 years of interior design experience coupled with her retail furniture and consignment furniture background, Trish can help you with any of your furniture selection and home decorating needs.  Most of SOHO's consignment furniture and accessories come from personal homes, estates, decorators, model homes and company overstocks.
And when you hear the term "fine furniture gallery" thrown around, you don't always know what to expect. But at SOHO you can tell they have an eye for quality without being stuffy about it. New inventory is arriving on a daily basis. So if you don't find what you need today, be sure to come back tomorrow. You never know what special treasure may have just arrived.
Customer service is a hallmark at SOHO and is Trish's number one priority. If you need "fine furnishings for the sophisticated home" this is the place to be. Let Trish and her staff help you buy or consign your Raleigh furniture pieces today!
Page Topic: About Raleigh Furniture